Internationellt samtal om dyslexi
Under dyslexiveckan händer det en massa spännande runt om i världen. Bland annat kommer ett jämförande samtal mellan olika europeiska länder att äga rum kopplat till synsätt på dyslexi och utredning. Det sker på fredagen den 9 oktober och jag har äran att delta. Spännande!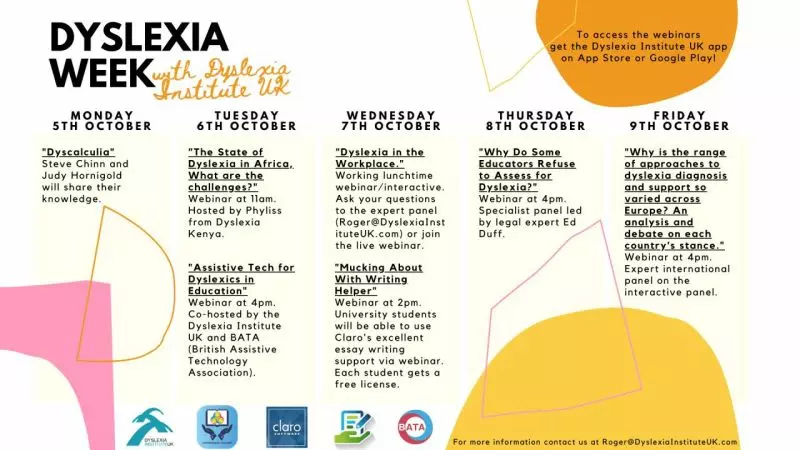 "4) Dyslexia in the Workplace, Mandy Whalley, (Empowerment Passport) 
12-30 to 1-30 Wednesday 7th Oct: https://lnkd.in/dMfAJAM
3) Assistive Tech for Dyslexics in Education, Myles Pilling (BATA), Jack Churchill (Scanning Pens), Caroline Bateman (Achieve Now), and Louise Warriar (Centre Manager of Star Assessments) 4-5pm Tuesday 6th Oct: https://lnkd.in/dmgWace
5) Mucking About with Claro's Writing Helper, Stuart Marsden (Claro Software) 2-3 Wednesday 7th Oct: https://lnkd.in/d7pbmzP
7) "Why is the range of approaches to dyslexia diagnosis and support so varied across Europe?
An analysis and debate on each country's stance."
Panayiotis Constantinides (Greece),
Susanna Cederquist (Sweden),
Cris Moreno (Spain),
Mads Johanogaard (Norway), and
Roger Broadbent (UK)
4-5pm (BST) Friday 9th Oct. https://lnkd.in/dRfKF-8
Please submit questions via email -dyslexiainstituteuk@gmail.com or ask them after the presentations."